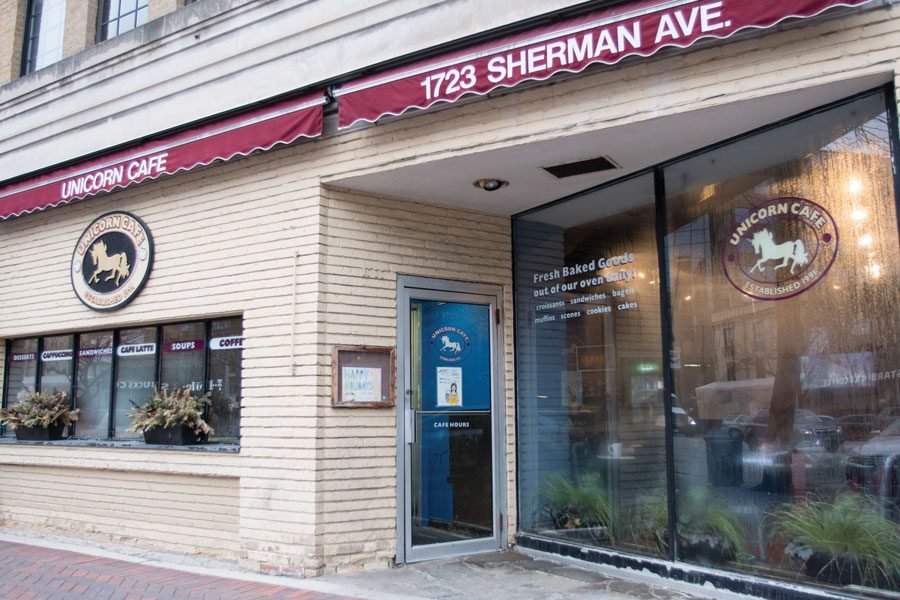 In winters past, Unicorn Cafe's wide, foggy windows served as an invitation into the Evanston mainstay's toasty interior. Though the haze often masked the independent coffee shop's contents to outside eyes, upon entry, students could be sure to receive a warm cup of joe, a tasty baked treat and free WiFi.
But not this winter.
After nearly 30 years in Evanston, Unicorn Cafe's once-fogged windows remain clear, now offering only a glimpse into the sadly familiar sight of an abandoned storefront.
When Unicorn Cafe's doors officially closed in September, amid the pandemic-driven recession and after concerns of dwindling city support for independent businesses, Downtown Evanston lost not only a coffeehouse, but a communal space.
The musical talents of Northwestern students occasionally reverberated off those big windows, filling Unicorn Cafe with the sounds of whichever open mic the store happened to be hosting that particular weekend.
Its cozy atmosphere, ample seating and seasonal drinks also made it a prime study spot before the pandemic hit.
When news of its closure broke, one Twitter account recalled the shop as the University marching band's "go-to spot" for coffee before practice, just one of many who lamented the loss on social media. After the well-loved cafe brewed its last pot of coffee, many realized just how short their time with Unicorn had been.
Students can still choose from a wide array of coffeehouses off and around campus — but none quite like Unicorn Cafe. As the name suggests, Unicorn Cafe captured a unique spirit not found among the city's selection of other shops, both independent and chain. There may never be another Unicorn, but its memory will live on in those who graced those small, circular tables with a cup of coffee and a mountain of work.
- James Pollard