To say the world has changed from the last time Northwestern played a football game is an understatement.
When the Wildcats take the field on October 24 against Maryland for their season opener, it will have been 330 days since they last played a game. It is their second longest layoff since the football program returned in 1908, with the offseason between the 1917 and 1918 campaigns stretching just a week longer.
Over that almost 11-month span, the college football landscape has undergone some monumental changes. From name, image and likeness developments to athletes using their platforms for social justice, college athletes have used their voices to push back against the norms of amateur athletics. On top of that, teams and players dealt with a global pandemic that has altered not only how programs operate, but the sports world around them. Games and entire seasons were canceled. Players opted against competing. Conferences disagreed on the best approaches to play.
And NU has been right in the middle of it all.
The road to Opening Day 2020 has been long, windy and full of detours. But the final destination has — improbably — appeared on the horizon.
"It's been a journey — it always is," coach Pat Fitzgerald said Monday. "From a standpoint of my 14 previous years, I don't know if there has been an offseason as unique as this one."
Departures and Arrivals
When Northwestern left Champaign on the last of November last year, it marked the end of an underwhelming season and the start of a blank slate. No one on those buses could have imagined what was coming soon after, but for the end of 2019 and first few months of 2020, the Wildcats had a normal offseason, which was highlighted by an offensive coordinator change and transfer news.
November 30
Northwestern ends 2019 season by winning the Hat
The 2019 season was disappointing by all standards, but NU did end the season on a high note. With Andrew Marty operating a makeshift running attack on a gloomy November afternoon, the Cats upset bowl-bound Illinois 29-10. NU ran for 378 yards on 65 carries, while a stout Cats defense held the Fighting Illini to only 160 total yards.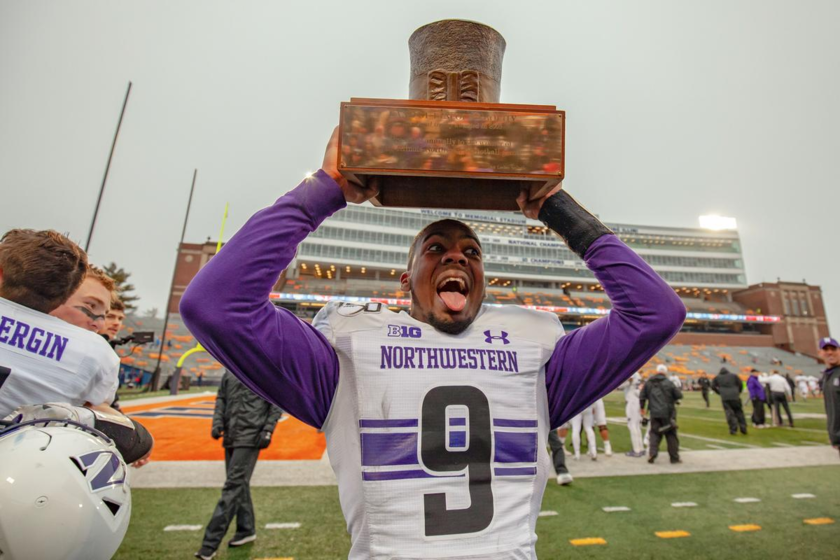 December 1
Mick McCall leaves
Less than 24 hours after the win over Illinois, Northwestern announced that offensive coordinator Mick McCall would not return to the team in 2020.
The news was not surprising given the Wildcats' putrid offensive output in 2019. But for a coaching staff that prides itself on consistency, it was a major change. Fitzgerald had never looked for an offensive coordinator since after the 2008 season, and soon started on the hunt for a new leader of the offense.
December 11
Mike Bajakian officially hired
When the offensive coordinator vacancy was announced, many names were thrown out as possible hires from the seemingly realistic like Notre Dame quarterbacks coach Tommy Rees to the pipe dreams like Kansas City Chiefs offensive coordinator Mike Kafka. But Fitzgerald decided to go with a name not on many people's list: Mike Bajakian. The Athletic's Matt Fortuna and Yahoo Sports' Pete Thamel broke the news on December 6 before it became official on December 11.
Bajakian came to Northwestern from Boston College, where he served as the offensive coordinator for one season. He previously served as a quarterbacks coach and/or offensive coordinator with the Tampa Bay Buccaneers, Tennessee, Cincinnati and Central Michigan.
January 1
Bennett Skowronek transfers to Notre Dame
Bennett Skowronek entered the 2019 season with high hopes. As the undisputed No. 1 wide receiver and team captain, it was his season to be a top guy on offense and play himself onto NFL team radars. But a season-ending injury against Michigan State derailed those plans. When the season ended, Skowronek, who had an extra year of eligibility, weighed his options and elected to transfer.
He settled on Northwestern rival Notre Dame as his new home. In his announcement, Skowronek expressed gratitude for his time in Evanston.
"These past four have been nothing short of incredible," he wrote. "I'm honored to have had the opportunity to represent Northwestern on the biggest stages, giving the game everything I had."
January 15
TJ Green announces his return
After injuring his foot in the 2019 season opener and missing the rest of the season, quarterback TJ Green applied for a waiver to play another season. His waiver was approved and on January 15, he announced he would not transfer from Northwestern and would stay with the program.
March 9
Peyton Ramsey transfers in
Green and the rest of the quarterbacks added a new teammate almost two months later. After signing Hunter Johnson as a transfer two years ago, Northwestern once again dipped into the transfer market in 2020 and got one of the top quarterbacks on the market in Peyton Ramsey.
Ramsey, who the Wildcats recruited out of high school, was an honorable mention All-Big Ten player as a senior at Indiana before deciding to leave for his final year of eligibility. He told The Daily soon after his commitment that he was looking for three things in his new home: a place where his talents would be used, a place where he fit into the culture and a place where he could win.
March 10
Gaziano, Thomas, Miller perform at Pro Day
In the last major public event held by Northwestern before the country shut down, Joe Gaziano, Alex Miller, Jared Thomas and other local college athletes participated in a pro day at the Walter Athletics Center. COVID-19 had already impacted the event, most notably with some electing to bump elbows instead of shake hands.
Fitzgerald was available to the media for a few minutes and was not asked about the coronavirus.
The Storm
The story has been told so many times it will soon be ingrained in the folklore of American sports. Rudy Gobert tests positive for the coronavirus on March 11, and within days the entire sports world is shut down. Over the next few months, as the entire Northwestern community dealt with the unknowns of coronavirus and remote learning, football became secondary.
March 12
NCAA and Big Ten cancel all events for rest of the school year
On the afternoon of March 12, the NCAA canceled all championships for winter and spring sports and the Big Ten called off all games across all sports for the rest of the 2019-2020 school year. The Big Ten also banned all on-campus and off-campus recruiting activities.
March 13
Big Ten cancels all team activities
The next day, the Big Ten announced it was canceling all team activities until April 6.
March 27
Big Ten extends ban on team activities
The Big Ten announced it was extending its ban on team activities until May 4.
April 20
Big Ten's Task Force for Emerging Infectious Diseases is announced
Big Ten commissioner Kevin Warren had initially announced the formation of the task force on March 7, but it took over a month for the Big Ten to formally implement the group. Northwestern's Chief Risk and Compliance Officer Luke Figora is the Wildcats' representative on the task force.
April 24
Derek Adams transfers in
For the third straight offseason, Northwestern successfully recruited a graduate transfer punter, this time in Derek Adams. Adams, who announced his commitment on April 24, comes to the shores of Lake Michigan from Kent State, where he earned All-MAC Second Team honors in 2017.
May 1
John Raine transfers in
John Raine became Northwestern's third graduate transfer of the offseason on May 1, when he announced on Twitter his decision to come to Evanston. Arriving from Florida Atlantic, Raine was an All-Conference USA honorable mention as a senior.
May 4
Big Ten extends ban on team activities once again
On the day the team activities ban was set to expire, the Big Ten extended it once again to June 1.
May 26
Pat Fitzgerald speaks to the media for the first time since lockdown
After last speaking to the media at Pro Day, Fitzgerald held his first press conference in over two months. He said that the team was continuing to meet on Zoom and going through the normal offseason procedures that could be handled online. While he was hopeful the team would get back to campus soon and start the season on time, he wasn't looking too far ahead.
"If there's one thing I've learned through this COVID experience, it's that hypothetical conversations are a hypothetical waste of time," Fitzgerald said.
An Uncertain Summer
As teams across the country started preparing to open facilities for summer practices, athletes began to recognize the strength of their collective voices and their activism on college campuses jumped to the forefront. Many spoke out against police brutality in the wake of the death of George Floyd. At the same time, players fought for the use of their name, image and likeness and representation in the decision-making process. When players finally returned to campuses for workouts, it was clear athletes were no longer going to stay silent on issues that mattered to them.
June 1
Black Student-Athlete Alliance releases statement
At the beginning of June, the Northwestern Black Student-Athlete Alliance released a statement on Instagram, which was later reposted by Northwestern's athletic department.
"As leaders, we take on a responsibility to uphold our platform as the black student-athlete community and make sure our voices are heard," the statement read.
The group started a GoFundMe that raised $23,562 for Rebuild the Hood, an organization that invests in local businesses and real estate ventures in distressed communities. All the money raised went to efforts in the Chicago area.
June 22
Limited voluntary workouts begin
Northwestern started allowing certain athletes back on campus to start working out together and using school equipment at this time. But it wasn't business as usual — all the summer workouts for the football team were voluntary and limits were placed on the amount of people in facilities at the time.
July 8
Northwestern moves game from Wrigley Field
Almost 25 months after it was first announced, Northwestern's return to the Friendly Confines of Wrigley Field was canceled due to coronavirus concerns. The November 7 game against Wisconsin was moved from Wrigley to Ryan Field.
July 9
Big Ten announces conference-only schedule
One day later, the Big Ten announced it would move to a conference-only schedule. No details of what the schedule would look like were provided at the time.
"By limiting competition to other Big Ten institutions, the Conference will have the greatest flexibility to adjust its own operations throughout the season and make quick decisions in real-time based on the most current evolving medical advice and the fluid nature of the pandemic," the conference's statement said.
July 30
Kevin Warren sends letter to ADs
Warren and the chair of the Big Ten's emerging infectious disease task force, Dr. Chris Kratochvil, sent a letter to all Big Ten athletic directors about the forthcoming season. In the letter, Warren and Kratochvil wrote that the conference was still deciding if preseason camp would start on time and that the forthcoming season for all sports might be canceled.
"Our final decision will be rooted in guidance from medical experts and in consultation with institutional leadership, student-athletes, coaches and appropriate federal, state, and local authorities," the letter said.
August 3
Northwestern pauses summer workouts after false positive COVID-19 test
Northwestern paused its summer workouts due to a positive COVID-19 test. However, this turned out to be a false positive.
In the Span of a Week
All it took was six days for the Big Ten to build up and then seemingly destroy its 2020 season. When the conference released its schedule on August 5, there was still plenty of caution being exercised about the forthcoming season, but it still felt like a major step forward to a season starting on time. But soon after, the conference changed course.
August 5
Big Ten releases new schedule
The 2020 Schedule 2.0 was released on August 5, featuring 10 games, three bye weeks and an early September start date. In this version of the schedule, Northwestern was set to open the season at Penn State on September 5 and end the season against Michigan on November 21. The home game against Michigan was the only new game added to the schedule.
August 5
#BigTenUnited letter is released
On the same day as the schedule release, a group of over 1,000 players in the Big Ten backed a letter to Big Ten and NCAA leadership that asked for a more comprehensive plan for the 2020 season.
Titled #BigTenUnited, the letter listed specific requests regarding testing and contact tracing, safety protocols, transparency and more.
"While we appreciate the Big Ten's recently announced plan for the upcoming season, we believe that the conference's proposal falls short in certain areas," the letter read. "Given that the players are the primary stakeholders in the business of college sports, we believe any course of action moving forward needs to include player input."
August 7
Pat Fitzgerald speaks to the media as training camp begins
In a press conference held in honor of the start of training camp, Fitzgerald said that the week's earlier positive test was a false positive. Fitzgerald talked about maintaining focus heading into the season and urged people to wear a mask.
"If I could write an article for The Daily Northwestern, I'd say, please wear a mask if you want football," Fitzgerald said. "Wash your hands and socially distance. Please."
August 8-10
Rumors circulate about the Big Ten season
Over the second weekend of August, news started creeping out that — despite the recent schedule announcement — the Big Ten and other major conferences would be postponing the season due to coronavirus concerns. On August 9, Power Five commissioners held an emergency meeting, with ESPN reporting that the Big Ten was ready to postpone the season and wanted to see what other conferences thought.
The Big Ten presidents and chancellors met on both days over the weekend as well to discuss, and rumors started to circulate that an announcement would be coming within a few days.
As this was happening, players and coaches from across the country expressed their frustration around the possibility the season may not happen. They were also upset they had been excluded from the decision-making process and wanted to receive updates directly from personnel within the conference and NCAA.
August 11
Big Ten announces all fall sports are suspended
The hammer was levied the next day, when the Big Ten released a statement saying that all Big Ten fall sports would be postponed. The expectation immediately became that if the football season would be played, it would be in the spring.
It was later revealed that a vote was held with 11 schools, including Northwestern, electing to postpone the season, and three schools — Iowa, Nebraska and Ohio State — voting against it.
"The mental and physical health and welfare of our student-athletes has been at the center of every decision we have made regarding the ability to proceed forward," Kevin Warren said. "As time progressed and after hours of discussion with our Big Ten Task Force for Emerging Infectious Diseases and the Big Ten Sports Medicine Committee, it became abundantly clear that there was too much uncertainty regarding potential medical risks to allow our student-athletes to compete this fall.
Purgatory
For the month, athletes across the Big Ten were in a weird position. While the Pac-12 followed the Big Ten's lead and many mid- and low-tier conferences had already postponed their seasons, the SEC, ACC and Big 12 all elected to play the 2020 seasons without delay. So, while teams like Georgia, Syracuse and Oklahoma continue preparing for games, Northwestern players had no idea when they would never see the field.
August 16
Justin Fields tweets petition
The Big Ten's decision was met with criticism from many players, parents, fans and commentators.
Ohio State's Justin Fields — arguably the conference's best and most well-known player — took action to try to reverse the decision. He started a petition in hopes that football could return in 2020.
"We, the football players of the Big Ten, together with the fans and supporters of college football, request that the Big Ten Conference immediately reinstate the 2020 football season," the petition read.
August 19
Big Ten publishes open letter
Responding to the negative response from people across the Midwest, Warren wrote an open letter to the Big Ten community. In the letter, Warren explains the reasonings behind the postponement, including rising transmission rates, the unknowns of the coronavirus and concerns about contact tracing.
"Moving forward, we will continue to build upon the framework that our medical experts have developed over the past five months," Warren wrote. "As we expand upon a plan to allow our student-athletes to compete as soon as it is safe to do so, we will keep our focus on creating protocols and standards set forth and established by our medical advisors that are responsive to the medical concerns evaluated by our COP/C."
August 20
Rashawn Slater opts out
Rated by many as a first round pick, senior offensive lineman Rashawn Slater announced his decision to opt out of the season on August 20. Slater was a starter at right tackle as a freshman and sophomore before moving to left tackle as a junior. He was set to start at left tackle again this fall.
August 29
Fitzgerald releases statement on Kenosha
On August 23, Jacob Blake, a 29-year-old Black man originally from Evanston, was shot seven times in the back by a Kenosha police officer. The shooting resulted in protests over the following days, including boycotts by NBA, WNBA and MLB teams.
For almost three decades, Northwestern has traveled to Kenosha for a week-plus long camp — although they did not go this summer due to coronavirus. After The Daily's Ella Brockway made note of the University's lack of response to the incident, Fitzgerald responded the next day with a statement.
"The situation we're all witnessing unfold in our program's home-away-from-home is horrifying, heartbreaking and helplessness-inducing," Fitzgerald wrote. "We need the resolve to fight through the despair because the work we continue to do on ourselves, our families and our community has never been more urgent to create a more just world."
September 1
Donald Trump talks with Kevin Warren
After Donald Trump reached out to the Big Ten the day before, Warren and Trump talked over the phone for an undisclosed amount of time on September 1. Following the meeting, Trump tweeted that the conference was "on the one yard line" regarding returning, which was not the case.
Many feel the decision to get involved with the Big Ten was a political move from Trump, hoping to gain support in the upcoming election from people in the Midwest. And ever since the league has come back, Trump has claimed he brought back Big Ten football, which many people within the conference have denied.
September 3
College football season begins
The 2020 FBS college football season began on September 3 with UAB facing off against FCS Central Arkansas and South Alabama battling Southern Mississippi.
September 10
Jonathan Holloway expresses belief on not playing
NJ.com interviewed Rutgers president and former Northwestern provost Jonathan Holloway on many different topics about the Big Ten's decision. Holloway, himself a former football player at Stanford, expressed his belief that the Big Ten was better off not playing.
"If I'm wrong because I was erring on the side of safety, I don't have a problem with that," Holloway said. "I don't think I'm wrong, though. I just don't think it. And if I had to put money down, we're going to see some radical changes within a month — no later than October. I'm really worried about what we're heading toward, on just college campuses in general, not just sports. It's deeply concerning."
Changing Course
On the same day Holloway exclaimed he did not want a college football season, Ohio State head coach Ryan Day released a statement that asked for Big Ten college football to return this fall. "These young men and their parents have asked so many questions that I do not have an answer to, but the one that hurts most is: 'Why can these other teams play and we can't?'" Day wrote. "Our players want to know: why can't they play?"
A few days later, they had an answer.
September 12
Some Big Ten leaders hear presentation from task force
The medical committee of the Big Ten's Return to Play Task Force gave a presentation to eight presidents and chancellors in the conference. The presentation went well, and a meeting was scheduled for the next day.
September 13
Big Ten Council of Presidents/Chancellors meets
The Big Ten Council of Presidents/Chancellors, chaired by Northwestern president Morton Schapiro, met on a Sunday afternoon to discuss potentially ending the football season's postponement and start playing in October. During the meeting, a plan was presented to COPC, and it was expected that a vote on the decision was imminent.
September 15
Nebraska president raises people's hopes
Nebraska president Ted Carter is caught saying that announcement is coming later that night that Big Ten will be back this fall. However, the announcement does not come.
September 16
Big Ten announces return
As Northwestern students prepared for the first day of classes, the Big Ten announced around 8:20 a.m. C.T. that football season is back and will start the weekend of October 23. The vote was unanimous.
On the Big Ten Network, Warren, Schapiro, Phillips and other Big Ten leaders spoke on the decision and elaborated on their reasons for returning, saying public backlash, lost money and success of other leagues were not factors.
Arguably, the biggest reason publicly expressed was the ability to do daily rapid testing for all players, coaches, trainers and other important personnel.
The announcement also included the new schedule guidelines. Teams would be playing eight regular season games over eight weeks, with a ninth division crossover game occurring during Championship Week.
Guess Who's Back?
After the Big Ten's announcement to return, Fitzgerald was asked when the team was going to get back to practice. He quickly responded at 8 a.m. the next day. And as Northwestern started preparing for the season, there wasn't much news out of camp.
September 19
Big Ten schedule announced
Days after the return, the Big Ten released its third version of the 2020 schedule. The Big Ten elected to go with eight regular season games with no byes, starting the weekend of October 24.
As the schedule went from nine to ten to eight conference games, Northwestern's trip to Happy Valley to play James Franklin and Penn State, as well as the game versus Michigan were eliminated.
September 24
Rashawn Slater sticks with his decision
While many players across the Big Ten decided to return after originally opting out, Rashawn Slater elected to not return to the football team for his senior season.
October 9
Jesse Brown awarded No. 1 jersey
Since the 2011 season, the No. 1 jersey has been used to honor a player who personifies the "Wildcat Way." Senior running back Jesse Brown, who formerly wore No. 36, was awarded the jersey for the 2020 season. Brown has shown flashes of success in his four years on the North Shore, but he has struggled to stay healthy.
October 16
Four more players opt out
Eight days before gameday, Northwestern announced that four additional players — senior defensive end Samdup Miller, senior quarterback Aidan Smith, senior safety Travis Whillock and sophomore tight end Jason Whittaker — had elected to opt-out of the 2020 season.
While the announcement came just a week before opening day, the decisions had been made well before then, according to Fitzgerald.
Miller and Whillock would have been starters and leaders on the defensive side of the ball. Miller started every game he was active in since arriving as a freshman and has 7.5 career sacks. Whillock was All-Big Ten honorable mention in 2019 in his first season as a full-time starter.
"We completely support the decision each young man made during the spring and summer as they evaluated their personal circumstances," Fitzgerald said in a statement.
October 19
Depth chart Released
The first two-deep of the season always answers questions lingering throughout the entire offseason and raises new ones as well. When the depth chart was released just minutes before the first Monday press conference of the year, it did more of the former than the latter.
At quarterback, Ramsey was listed alone as the singular starter at quarterback, which Fitzgerald later confirmed had been set in stone for a few weeks at this point. The headline-making news came at left tackle where true freshman Peter Skoronski earned the starting job.
October 21
JR Pace releases video on Twitter
On Wednesday evening, senior safety JR Pace posted a video on Twitter entitled "If You Cheer Us, Hear Us." In the video, Pace talks about the experience on Black athletes on college campuses and asks people to listen.
"Because when you don't see protests as televised or advertised but when you do see us back on the field, hear this: This isn't over," Pace said. "Until we all commit to listening, learning, educating and action, nothing will change.
The video was retweeted by many players, coaches and team personnel, including Fitzgerald.
"These are not 'just athletes,'" Fitzgerald wrote in a quote tweet. "These are sons and brothers and scholars and leaders. Are you listening yet?"
October 24
Opening Day
When the Wildcats hit Ryan Field on Saturday for the season opener, it most likely won't go down as an all-time classic for what happens on the field. Only a select few games ever get that distinction. Instead, it will be remembered more for what it represents: the end of a long, crazy, hard-to-believe offseason and the start of a new era in Northwestern football.